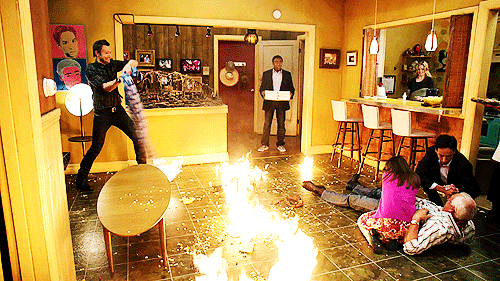 The Theme Housing program at Kenyon College provides a unique living experience that enables a group of students to live together and explore a common area of interest or theme. See if next year's newest Theme Housing options are right for you!
Artist Housing
Calling all artists! Here's a creative space for you to creatively create. This year's big art project: a wall to wall to wall to wall to ceiling to floor finger-painted mural of Frida Kahlo. Facilities include a 24/7 spot welder and furnace for all of Kenyon's bronze-smiths. Be careful to not get your Fjallraven backpacks mixed up at the door!
Alternative Medicine Housing
What's that smell? Is someone smoking hash? Nope! It's just the stench of 8 oil diffusers, 3 reiki treatments, and 15 different incense wicks all burning at once! Leave your bad chakras at the door, cause there's only positive, buoyant auras allowed inside our lunar-dome! Our water is so heavily treated with sage, frankincense, and Herbalife supplements, it tastes like you're drinking out of a flower vase.
Outdoor Enthusiasts Housing
Open Air Living! We've got a small camping tent pitched conveniently right on Middle Path! There's no kitchen, but we've got a small fire going and all the canned beans and squirrel meat you can hunt! We proudly hold the Kenyon record for "Most Cholera Outbreaks."
Free Substance Housing
In order to stay in Free Substance Housing, you must consistently fail your weekly drug test. We believe that providing an unlimited and mandatory supply of free drugs and alcohol to our residents is a crucial part in providing a "dangerous and irresponsible" atmosphere for our residents to study, sleep, and relax!
Thrill Writer Staff Housing
Beware All Ye Who Enter Here. Upon first glance, you may wonder, "how can Kenyon support a half opium-den/half animal-mask BDSM clubhouse?" Answer is: they don't. Located underground, beneath the Pierce seal, this premiere theme housing option is reserved for the degenerate scourge of Kenyon's literary community.